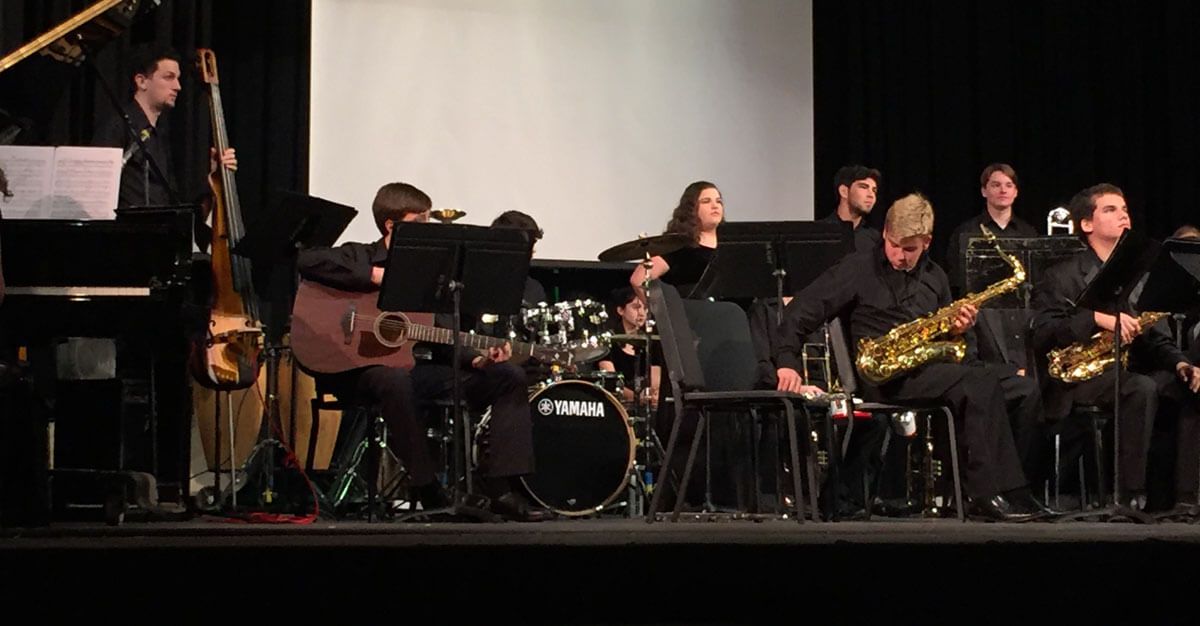 Pre-MPA Jazz Night Performance
Wilson Middle and Plant High Schools Share the Stage on Pre-MPA Jazz Night
On a night that served as a rehearsal, of sorts, for the upcoming MPA next week, both schools were able to practice their chops in front of an appreciative audience at the PHS auditorium. Both bands played extremely well.
Wilson played their trio of charts that included Bubbert Goes Retro and Ballad for a Blue Horn, both by Steinel, and Jericho, which was arranged by Chris Sharp. The last number rang a very familiar bell because, as a band parent, I have heard versions of this song played somewhere during my daughter's journey as a trumpet player. I thought our Plant band, who were seated in the first 4 rows, were very respectful of their up and coming peers and, at times, applauded the loudest during Wilson's performance to show their support. Well done, Wilson!
Then the Plant Jazz Band took the stage after a brief "changing of the guard". I am absolutely certain they were an inspiration to the Wilson players, who sat in the same four rows as Plant played. Opening with The Queen Bee from Sammy Nestico, followed by Hospital Blues (tom Kubis) and finishing up with Backrow Politics from Gordin Goodwin.
The Queen Bee featured solos by Kayla Verra on piano and DJ Harpole on saxophone.
Hospital Blues was a beautiful number showcasing the band's ability to tone things down, yet remain in complete control of timing and synergy. The sound of the brushes sliding across the snare drum created such a smooth and relaxing atmosphere for what was to be a beautiful rendition. The primary melody, played by Jack Kurtz on the flugelhorn, exhibited great execution even as note after note had to be held, for what seemed like, measures at a time. What really grabbed the audience even more was Jack's solo. The emotion that poured from the instrument was matched only by the expression on Jack's face as he belted out his artwork. The range displayed in that piece on the flugelhorn, and later back to the trumpet when he switched, I am sure left no doubt in anyone's mind that there just might be a future for Jack in the music industry. 🙂
The highlight of the evening's performance, in my book, was Backrow Politics. The closing number did what all bands and artists wish to do: finish with the audience wanting more. This piece was a fairly quick-paced (about 120bpm), melodic number that was very difficult not to tap your foot to. The best part of this number was the opportunity it provided for so many band members to solo, trade off, goof off and just have an absolute ball. Kayla, who had a memorable keyboard hook, was also able to solo once again. DJ and Previn soloed as a trading duo on sax, and all four trumpet players in the back line (Andrea Beaty, Cal Richards, Jack Kurtz and Alyssa Spelman) each had a sequential solo that then culminated in all four of them soloing at the same time. Talk about herding cats! Those measures were a fantastic and fun example of controlled chaos as each trumpet player had their way within the time and respective keys they were in.
The band has another week and a half to rehearse before the MPA performance on February 9, 2018 at the Carrollwood Cultural Center. PHS performs at 6pm. It is a free event so bring as many as you can find. Based on tonight's performance, it will be well worth the trip!
Video Capture of Backrow Politics
Phone ran out of memory during Jack's solo! (oops)
Don't forget to share this content!
Photo Gallery