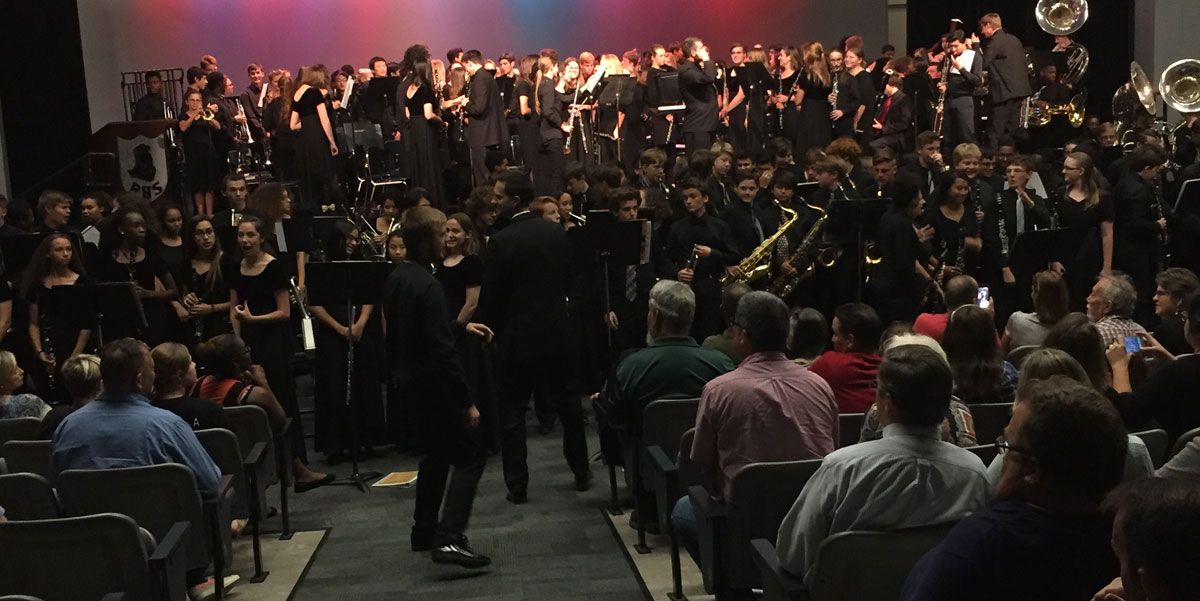 Veteran's Day Concert
Due to apparent conflicts with the auditorium at Plant, this year's Veteran's Day Concert was held at Robinson High School. As it so happened, The RHS Marching Knights also had their Fall concert scheduled for this evening. No problem. We can fit. And we did.
As the name of the concert implies, tonight's concert was a salute and tribute to our Veterans, as well as all military personnel, past and present.
The concert featured a mix of military standards as well as peppy marches led by both band directors, Mr. Dell, of Plant and Mr. Revett, of Robinson.
What I found interesting and what showed an effort to keep things moving, was how the Plant Jazz Band played front and center on the floor while the RHS Symphonic Band and Wind Ensemble traded places on the stage. When considering the amount of musicians being moved and amount of music that was to be played, it was a great use of downtime, in my opinion, and left little time for the audience to even shift in their seats.
Aside from the number of "movements" we heard on the stage, there were a few moving moments in the audience. The first of which was a Certificate of Appreciation awarded to Technical Seargent, Timothy Bruce Stivers in honor of his service in the military. Mr. Stivers served three tours of duty in the Vietnam War, seeing combat more than 20 times and celebrated more than 20 years of service in the Air Force. Mr. Stivers was joined by his wife and his Granddaughter, who played clarinet for the RHS Marching Knights, as he received his award and a standing ovation from the appreciative crowd.
The next personal moment, as RHS Band Director, Mr. Revett, called it, was his recognition of the fact that his 94-year-old Grandfather, Mr. Geoffrey Revett, made his way to Tampa tonight to attend this very special tribute event. At times the band director found it very difficult to get through the moment and his prepared speech, choking up on several instances and having to step back from the podium. He was ultimately able to give recognition of his Grandfather having served in the Royal Navy, part of Her Majesty's Naval Service, during World War II. My hat is off to that gentleman.
Plant Wind ensemble played just the first of the six movements that they will be playing in the spring for MPA, a very difficult movement for certain. The Trumpet Ensemble also treated the audience with a piece they will be playing when they travel to Atlanta later in the season.
The evening's music culminated in the unifying of a couple hundred band students that make up both high school bands to play the last number of the night. The number was actually a medley of the four armed forces theme songs. When each theme song was played, members of the audience who serve or have served in that branch were asked to stand and be recognized. I consider it a great accomplishment getting dozens and dozens of musicians together on the same page, literally. And they sounded like they had played together for months. To see a video of this medley taken by Anna DiMaio, check out the Plant band FaceBook page.
We need writers for this website. Please send an email to Mr. Dell if you have an interest in offering your services.